Multilingual Cafe

The Multilingual Cafe opened in 2011.
English, French, Spanish, German, Chinese, and Korean are practiced.
Here, you can enjoy conversations with international students for about one hour during lunch break. Please feel free to participate.
You can bring your own lunch. It's OK to leave early at your convenience.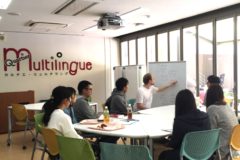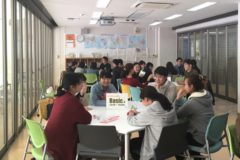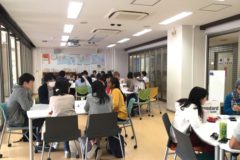 Location
Quartier Multilingue, First Floor, CELAS General Building I
Date and Time
12:10 – 13:00 (OK to bring your own lunch and leave early)
Tuesday/Thursday … English Cafe Monday/Wednesday/Friday … French Cafe, Spanish Cafe, German Cafe, Chinese Cafe, Korean Cafe
English Cafe
English conversation groups, divided into groups with a maximum of 10 students per one international student. You can freely join either the Standard Group or the Basic Group.
The Basic Groups are geared toward students who are not great at conversing in English but would like to improve their skills and interact with international students. Students can begin learning through English conversations with simple phrases and at a slow conversational pace.
French Cafe, Spanish Cafe, German Cafe, Chinese Cafe, Korean Cafe
Students who are studying these languages, are interested in these countries, or think they might want to travel there someday are welcome. You will be able to interact with international students as well as get to meet other students studying these languages beyond your year and department.

International students who can speak Japanese are in charge.